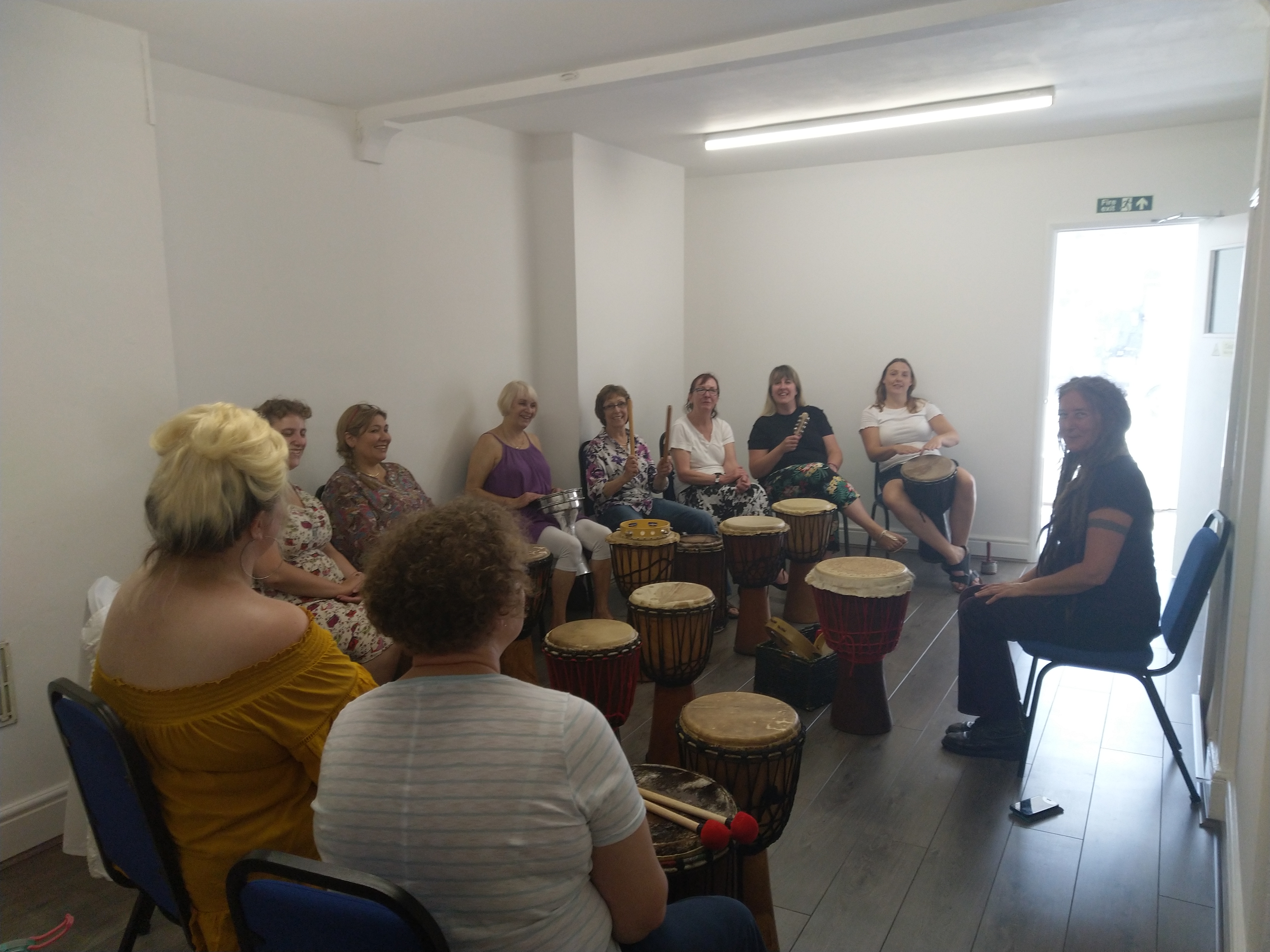 A group of staff, volunteers and members of the community recently took part in a group drumming session with Nikki Fenwick of Tribal Vibes. The drumming session was a trial for our well-being services being offered to clients and members of the community, as part of our connected, compassionate community initiative.
There has been a wealth of research to highlight the benefits of drumming and that participation in this activity can have a positive impact in the following areas:
Improving overall health and wellbeing
encourages team work
raises self-esteem
empowerment
encourages co-operation
stress relief
relaxation
improves co-ordination
As a team, we can wholeheartedly agree! The session lasted for an hour and everyone thoroughly enjoyed themselves! All the equipment was provided, with a variety of different sized drums available for use. In addition, there was also a box of assorted instruments for use in the "jamming" session, once everyone had become familiar with how to use the drums for maximum effect.
Whilst there was some apprehension about needing to have rhythm, everyone picked up the two parts we learnt with ease. Everyone could perform the basics by the end of the session, a great achievement for everyone involved. It was a fantastic bonding opportunity, with everyone being encouraged to join in. As testament to Nikki's teaching, there was no awkwardness or embarrassment at all! There was a lot of opportunity to lose yourself in the rhythm of the music in the freestyle and the ability to work together to make a collaborative, coherent sound was amazing to see and hear.
We're looking to organise these sessions on a monthly basis with dates now scheduled until the year, as follows: Monday 10th September, Monday 8th October, Monday 5th November and Monday 3rd December. If you would like to get involved in the next session, please contact the centre on 01283 535110 for more details. You don't need to be a client of sarac to get involved, spread the word and bring your friends and family along too for an hour of fun!