SARAC Collaborates with Local Schools
Burton based sexual violence and rape charity, SARAC, has paired up with local schools to spread awareness and improve education on the impacts of sexual violence.
De Ferrers Sixth Form, based in the town centre, has several students on board with SARAC's Young Person's Ambassador scheme. Revolved around giving young people the chance to contribute their time to a charitable cause and drive awareness of the charity through the younger generations of society. The scheme is all about giving young people the opportunity to become a part of the societal change needed around sexual violence.
Caroline Fotheringham, SARAC's Young Person's Service Lead, spoke about the importance of getting young people involved with the work of the charity, "Having young ambassadors in school is all about connecting with young people. Whilst teens might not approach SARAC out of the blue, they might take advice and listen to their peers. With ambassadors within educational settings, there is an easy way for students to be signposted to our services if they need them."
At De Ferrers Sixth Form, SARAC already have 4 dedicated young ambassadors representing their charity. Emma, Molly, Phoebe and Simran work with Caroline to promote the charity to victims and to spread messages about trauma, consent, and the impacts of sexual violence and rape. The students began their training with SARAC at the beginning of the 2021 academic year, and have since hosted coffee mornings, bake sales, and had numerous meetings to discuss events such as VAWG (violence against women and girls), always reviewing their awareness sessions to ensure they are current and contributing to actions for the future.
Sixth Form ambassador, Emma, revealed how she and her peers became involved, "We saw SARAC were looking for ambassadors on our school bulletin, and decided to join the open meeting to learn more. Since then, we chose to get involved because the issues are so important, and we wanted to be able to raise awareness of the good that SARAC is doing and can signpost people if they are in need of support."
Since the four De Ferrer's students have raised awareness of SARAC, the charity has become a well-known name within the school. The students recently voted for their 'Well Being Board', a display of important news and well-being tips, to have a SARAC focused feature. Previous displays have included Breast Cancer and Heart Foundation awareness. After SARAC's young ambassadors nominated the charity, SARAC won the vote to become the boards next display.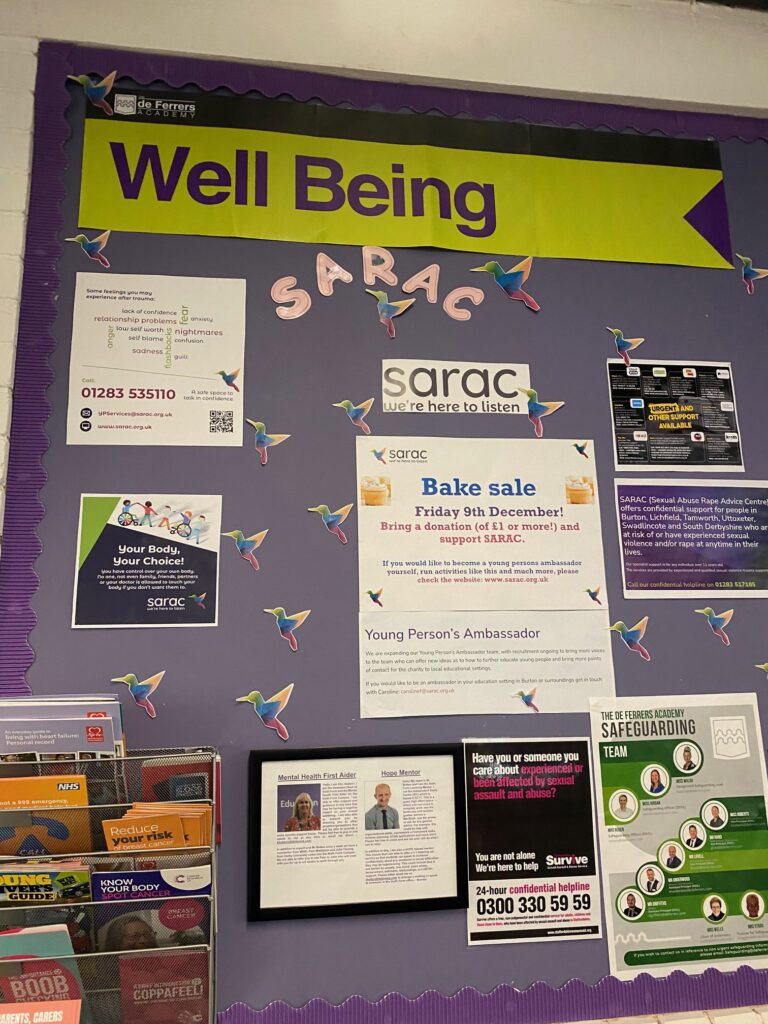 De Ferrer's is not the only education institute that SARAC works with. Having a close relationship Burton & South Derbyshire College, the charity aims to have Young Ambassadors spanning across all education settings in Burton Upon Trent. With a push to spread the word of their charity further, SARAC are recruiting more students to join their team and become Young Ambassadors. Giving benefits including pizza nights, skillset training, and personal statement advice, the charity is keen to offer more than just the volunteering experience for students.
In their mission to dedicate more time and resources to their Young Person's Service, SARAC are seeking funding to enable them to hire a Project Leader who can be employed to work on the Young Ambassador's scheme. Local businesses and organisations can learn how to become sponsors for this on SARAC's website.